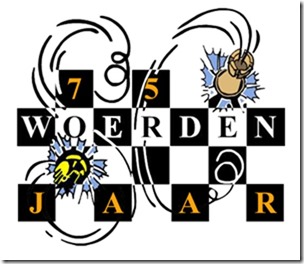 Op 12 september 2015 hebben we als Schaakclub Woerden ons 75-jarig jubileum gevierd. Als activiteit hebben we 's middags een quiz gehouden waarbij de schaakkennis van de leden op de proef werd gesteld. Eén onderdeel hiervan was het item met vragen over historische partijen, die u op deze pagina aantreft.
Er zijn sinds mensenheugenis heel veel mooie partijen gespeeld met bijvoorbeeld risicovolle offers, diepzinnige combinaties en inventieve aanvallen. Maar ook kan een partij memorabel geworden zijn vanwege een gemaakte blunder. Een aantal van deze bekende partijen wordt op internet veelvuldig aangehaald en besproken. Eén van die partijen staat bekend als "the immortal game". Over schoonheid valt natuurlijk te twisten en dus werden daarna diverse andere partijen benoemd als zijnde "Immortal" – onsterfelijk. Het is geweldig om deze partijen voor je zelf door te spelen en te zien hoeveel schoonheid er in ons geliefde spel schuil gaat. Voor iedere diagram en beschrijving de vraag: Wie speelde deze partij?
Immortal 1: The Evergreen game / The immortal game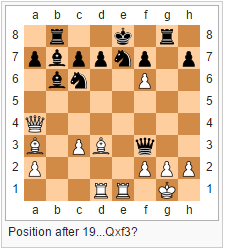 Welke zeer tactische en aanvallende speler speelde de zogenaamde "Evergreen game" (Berlijn 1852, tegen Jean Dufresne), maar ook de "Immortal game" (Londen 1851, tegen Kieseritzky)?
  A. Boris Spassky
  B. Adolf Andersen
  C. Wilhelm Steinitz
  D. Vassily Smyslov
Immortal 2: <….>'s immortal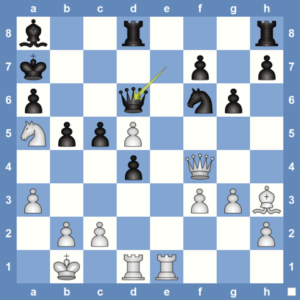 Na een jaar afwezigheid van toernooischaken herpakt deze speler zich met de eindwinst op het Hoogovens toernooi in 1999. Hij produceert hierbij één van zijn meest spectaculaire overwinningen tegen VeselinTopalov. Wie is deze speler?
  A. Garry Kasparov
  B. Vladimir Kramnik
  C. Vishwanathan Anand
  D. Anatoly Karpov
Immortal 3: Blunder of the century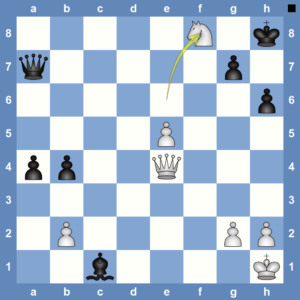 In 2006 wordt een Man versus Machine match gehouden in Bonn. Deze partij tegen Deep Fritz is juist bekend om zijn anti-climax en eindigt met een over het hoofd geziene mat in één. Wie maakte deze "blunder of the century" (aldus Susan Polgar)
A. Nigel Short
B. Garry Kasparov
C. Vishwanathan Anand
D. Vladimir Kramnik
Immortal 4: Ultieme voorbereiding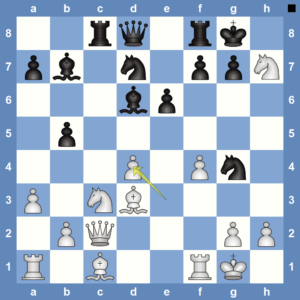 In 2013 wordt in Wijk aan Zee een geweldige partij gespeeld die tot in de puntjes bleek voorbereid. De uiteindelijke winnaar verslaat Levon Aronian in een offerpartij die iedereen versteld doet staan. Wie wint deze match, onder andere omschreven als "a game for the ages"?
A. Veselin Topalov
B. Vishwanathan Anand
C. Magnus Carlsen
D. Hikaru Nakamura
Immortal 5: The game of the century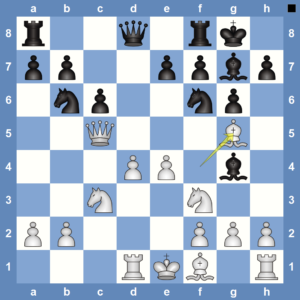 "The game of the century" gespeeld door Donald Byrne en zijn hele jonge opponent, New York 1956. Met mooie offers wordt een klein foutje (het 2x verzetten van de loper in de opening) hard afgestraft door … ?
A. Bobby Fischer
B. Gennadi Sosonko
C. Lev Alburt
D. Boris Gulko
Immortal 6: The immortal zugzwang game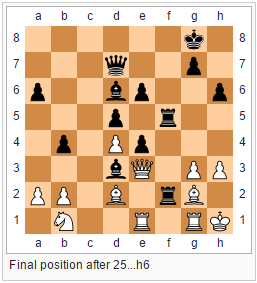 De "Immortal zugzwang game" (Kopenhagen 1923) toont deze tacticus naar wie een systeem vernoemd is, waarbij zetdwang voorkomt in het middenspel. Wie zorgde er op deze manier voor dat zijn tegenstander materiaal en de partij moest inleveren?
A. Tartakower
B. Smyslov
C. Nimzowitch
D. Sveshnikov
Immortal 7: Dame van huis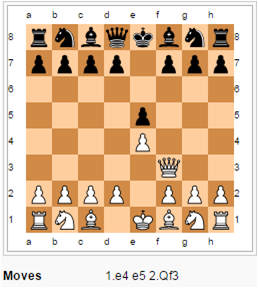 Dit is niet zozeer een Immortal game, als wel een "bekende" opening met een mooi verhaal. Wie speelde deze opening met wit en kreeg deze opening naar zich vernoemd?
A. Hitler
B. Frankenstein (-Dracula variation)
C. Napoleon
D. Nakamura



Immortal 1: The Evergreen game / The immortal game

Hierboven staat de zogenaamde Evergreen game, verdere
informatie staat ook op Wikipedia
.
Er staat ook voldoende leesvoer op
Wikipedia over "The immortal game"
, ook van de hand van Adolf Anderssen.
Immortal 2: Kasparov's immortal

De partij kan ook worden nagespeeld op o.a.
chess.com met wat aanvullend commentaar
 maar de partij is ook nagespeeld op
youtube filmpjes
.
Immortal 3: Blunder of the century
Ook deze match is op diverse plekken besproken, zoals ook in een
chessbase artikel met leuke foto's
.
Immortal 4: Ultieme voorbereiding
De mooiste manier om hier naar te kijken is via Youtube, het
filmpje met uitleg van Anand zelf
.
Immortal 5: The game of the century
Verdere informatie over deze partij
 is te vinden op Wikipedia.
Immortal 6: The immortal zugzwang game
Wikipedia informatie
beschikbaar.
Immortal 7: Dame van huis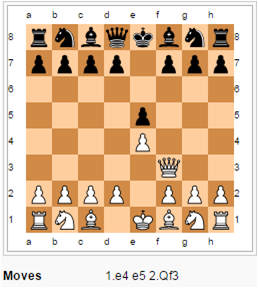 De zetten 1. e4-e5 2. Df3 zijn niet de meest geweldige zetten die je als witspeler in een opening kunt spelen. Het zijn de zetten die de zogenaame "Napoleon opening" definiëren. Napoleon Bonaparte had een grote voorliefde voor schaken maar werd geen begenadigd schaker geacht. In het midden van de negentiende eeuw wordt gepubliceerd dat hij deze opening in 1809 heeft gespeeld tegen
de Schaakturk
, een zogenaamd automatische schaakmachine die in werkelijkheid bestuurd werd door Johann Allgaier.
De naam voor deze opening kan ook anders worden opgevat. Het zou in dat geval verwijzen naar zijn vrouw Josephine, die naar verluid graag haar vertier buiten de deur zocht en aldus deze opening waarbij het Napoleon niet lukt om zijn Dame thuis te houden,
aldus ook Wikipedia
.